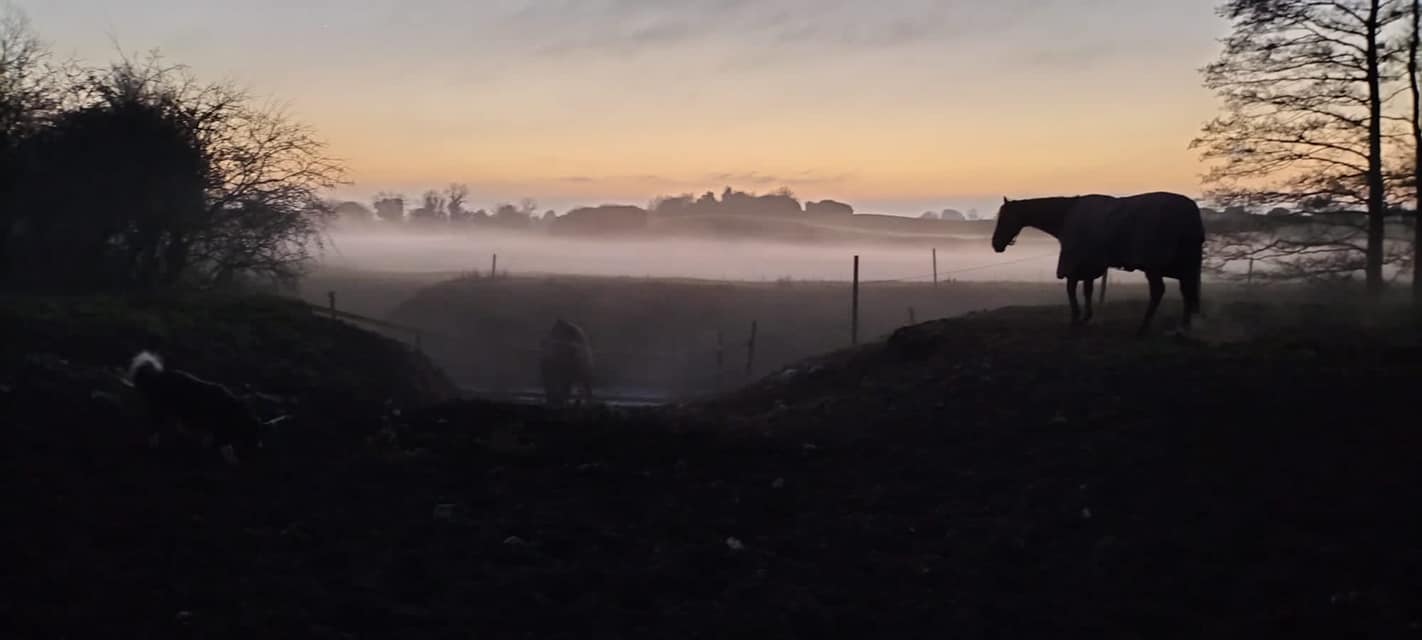 Welcome to the January issue of the My Lovely Horse Newsletter! 
We know all too well that January can feel long and gloomy but don't despair – we are here to brighten your month with the latest news, stories and exclusive footage from My Lovely Horse Rescue, starting with a special Happy New Year message from 3-month-old baby Colson!  
Last month we talked about the Remembrance Tree as a beacon of light in a dark winter and while Christmas now seems like a distant memory, we couldn't resist sharing this photo of the Remembrance Tree, decked from to top to bottom with the names of much-missed animal companions and friends. The response to this year's tree was incredible and it really was a poignant reminder that those we have loved and lost are always very much alive in our hearts and minds.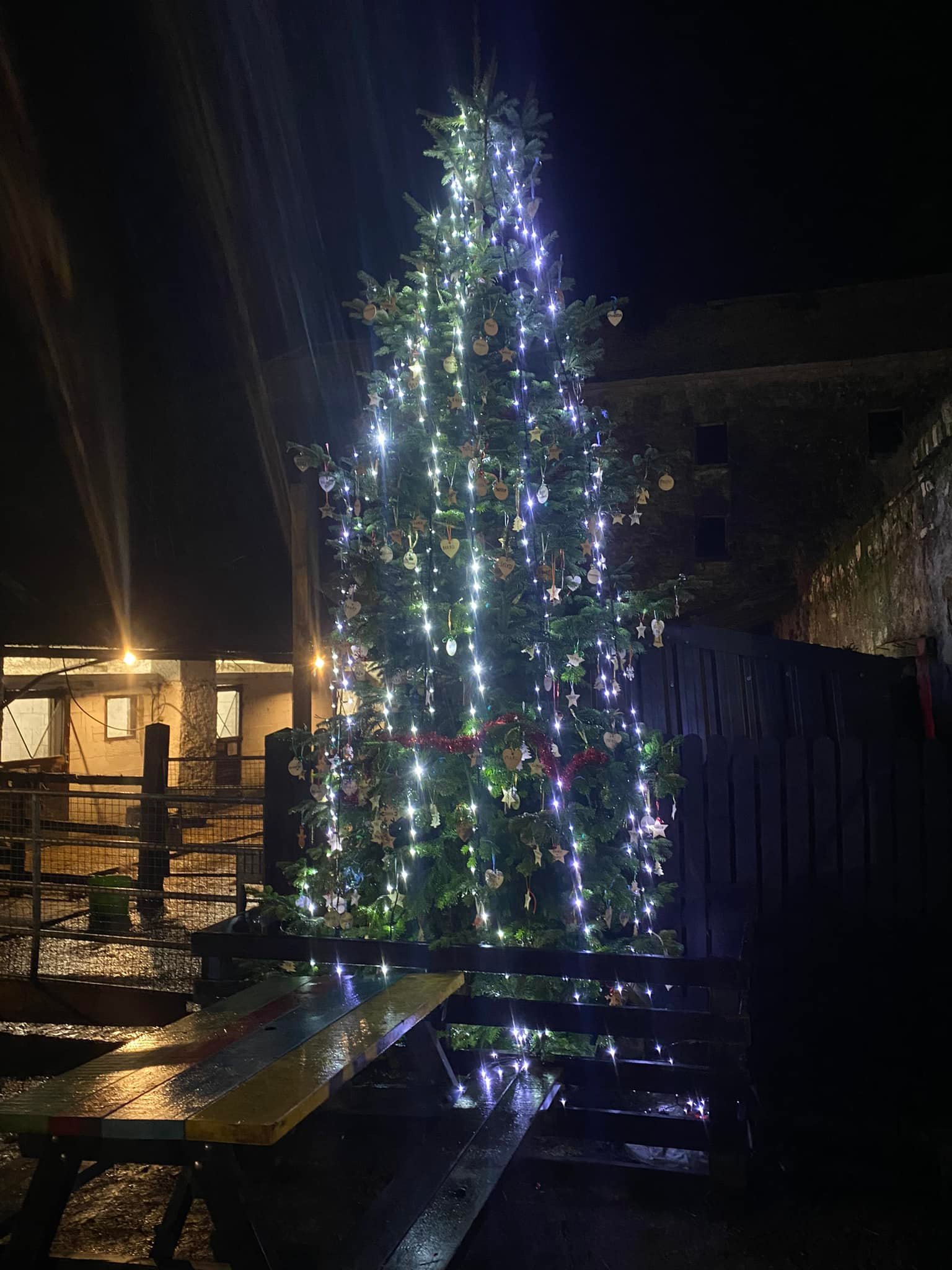 It was a busy December with 30 animals taken into our care. Our new friends Nicolas and Noel are waiting to meet you in our Arrivals Lounge and this month in our Departures Lounge we say goodbye to Faye, a beautiful horse we rescued in 2019 who passed away last month.

Our Story of the Month features a behind the scenes look at our MLHR Kildare base and an introduction to some of our rescues.
Our Day in the Life series this month looks at Charlie and his treatment for Cellulitis and Lymphangitis while our Did You Know? section looks at Microchipping and Horse Passport requirements in Ireland.
It's a brand new year and the animals have been busy making resolutions for 2022! If it's a New Year bargain you're after, look no further than My Lovely Charity Shop and the Tack Shack, the jewels in Edenderry's crown! In this issue we are profiling both shops which are staffed by an incredible team of Volunteers with a flair for fashion and an eye for style.   
Before you hastily swear off the sweet treats for the New Year – give our delicious Peanut Butter Brownies Recipe a whirl while you check out our Behind the Scenes section for exclusive photos and videos from the last month. 
As always, we are here for the animals because you are here for us. We are so grateful for your continued support. Thank you for subscribing! 

WIN A HOUSE AND SUPPORT MY LOVELY HORSE RESCUE
Buy a ticket for just €23 and you could be in with a chance to win a beautiful 3 bedroom town house in Dublin's Royal Canal Park.
There's only 40,000 tickets to be sold and if we reach this target MLHR receives €200,000
This is an unbelievable amount that can make a huge impact on the lives of the animals in our care.
Please share far and wide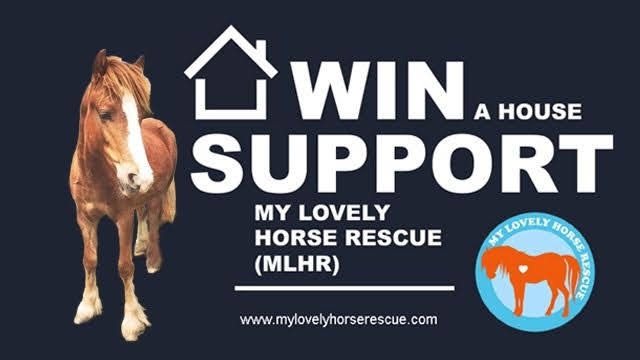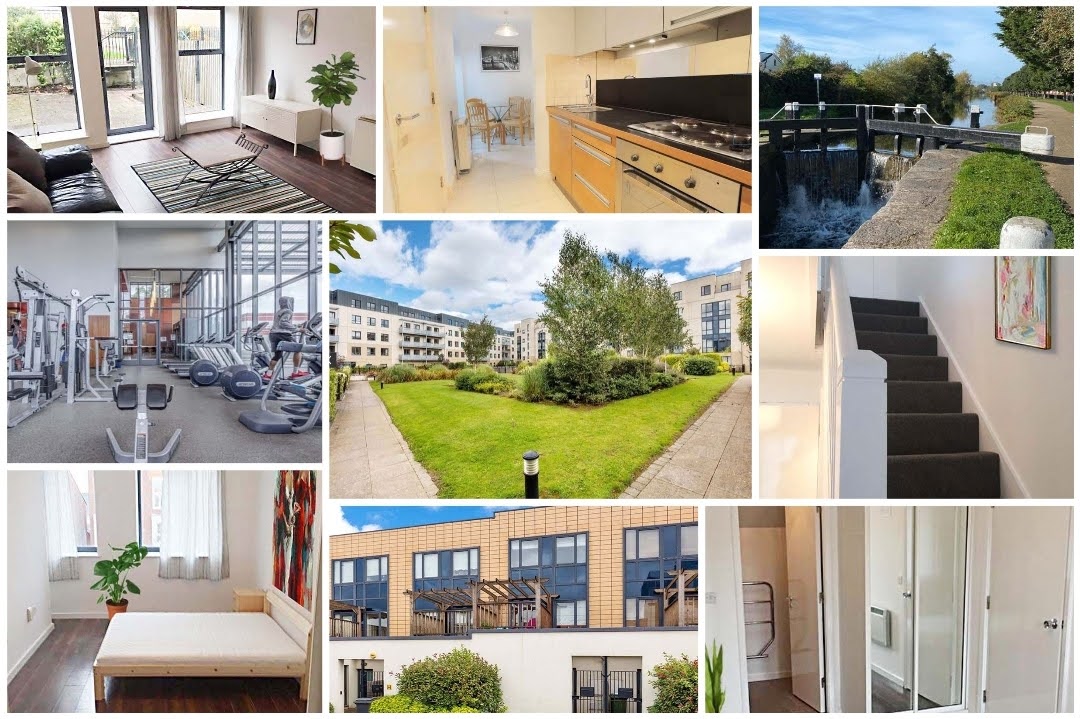 Arrivals – Nicolas and Noel
Our love affair with goats continues as more and more are surrendered to us. Were there always this many goats out there looking for homes and if so what used to happen to them before they had places like MLHR to take them in? What happens when we truly can't take anymore? We hope that day never comes because we never want to see any goat in need of a home. 
They really are fascinating and very entertaining creatures and the two latest additions to our MLHR family, Nicolas and Noel, arrived at the main Kildare farm just in time for Xmas. While goats are quite relaxed and gentle creatures in general, they can take quite some time to settle into new surroundings and can stress out really quickly.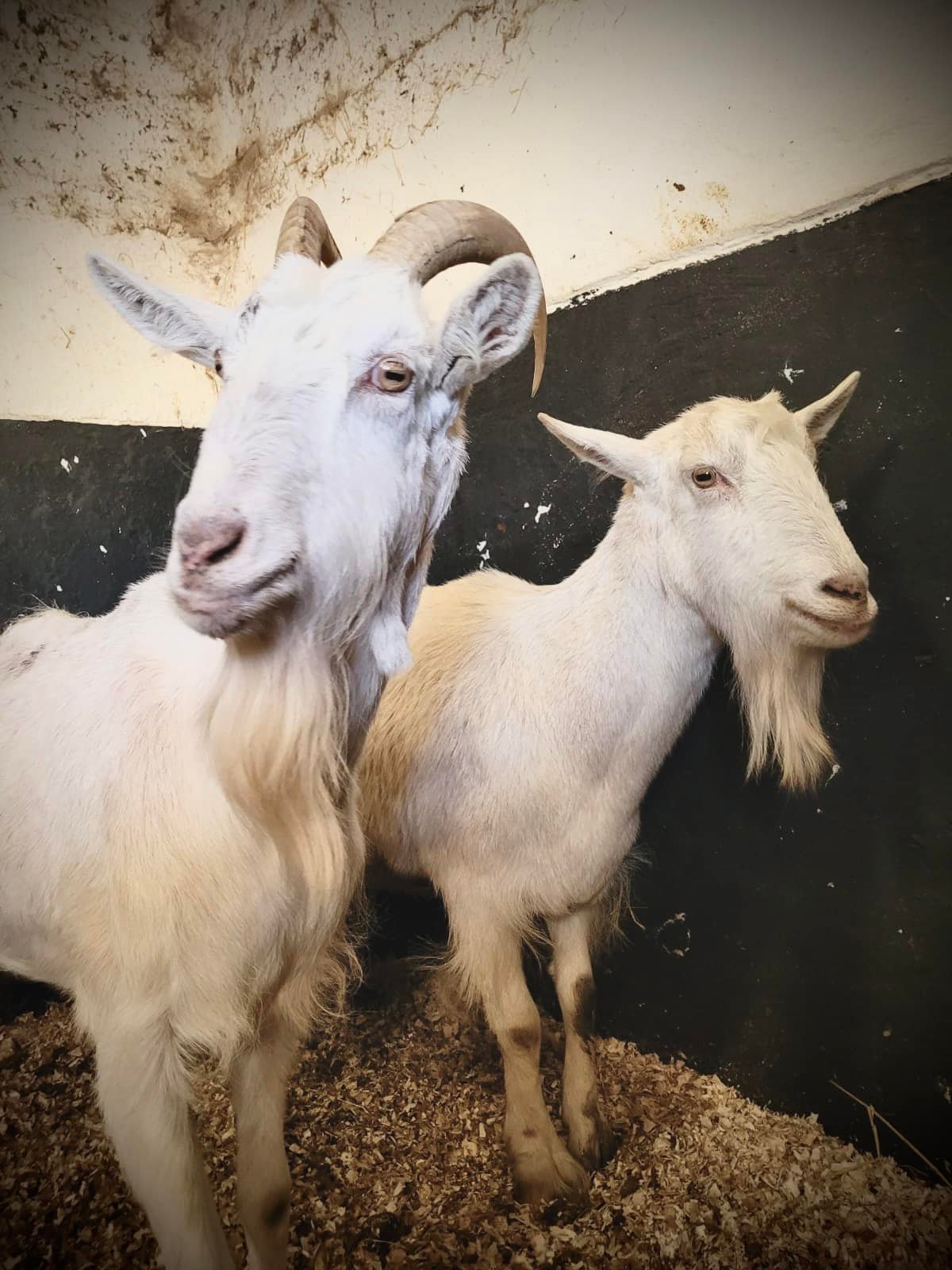 So Nicolas and Noel are chilling out for a couple of weeks in one of our front stables. Here they can have their own space while also getting used to all the noises and goings on in the yard. They can see the other goats wandering around and touch noses through the railing with them and any of the horses who may wander over for a nosy. It's kind of like their decompression area where they can get used to all the farmies' voices, learn who is who, who feeds them and that these are people they can trust. It's like getting the place to imprint on them so that when they are eventually let out with the herd they will stay with them and not run away. They are both doing good and no doubt soon they will be off with the rest of the herd causing havoc and eating every tree branch in sight!
Departure 
RIP Faye
In January 2019 MLHR Cork took a very special horse out of the horse pound. In her twenties and in bits Faye literally fell out of the horsebox as she arrived on the MLHR Cork farm. Looking at her it was amazing she even made it out of the pound at all.
Faye had Cushings disease, a disorder of the horse's endocrine system (hormonal system) most often seen in older horses. Cushings is not necessarily a death sentence but it does require proper management which poor Faye had obviously not been receiving and now she was in serious ill-health. Our Faye though was one feisty lady and this independence and strength of will which had seen her this far was not about to desert her now. Weak and all as she was she was well able to give a squeal at the other younger horses as she passed the stables and headed out to the paddocks. You could see the sheer determination in her and that amazing attitude of 'just keep on going no matter what'  made everyone admire her so much. She mooched along with the other horses as best she could, wobbling around, had her feeds and was groomed daily to prevent her coat from getting hard as it often can from Cushings. She would fall down sometimes (as she suffered muscle wastage from her condition) and then just look up at you as if to say, 'well here we go again', before pushing herself back to her feet. Her strength of character and that sparkle in her eye made us know she deserved a chance.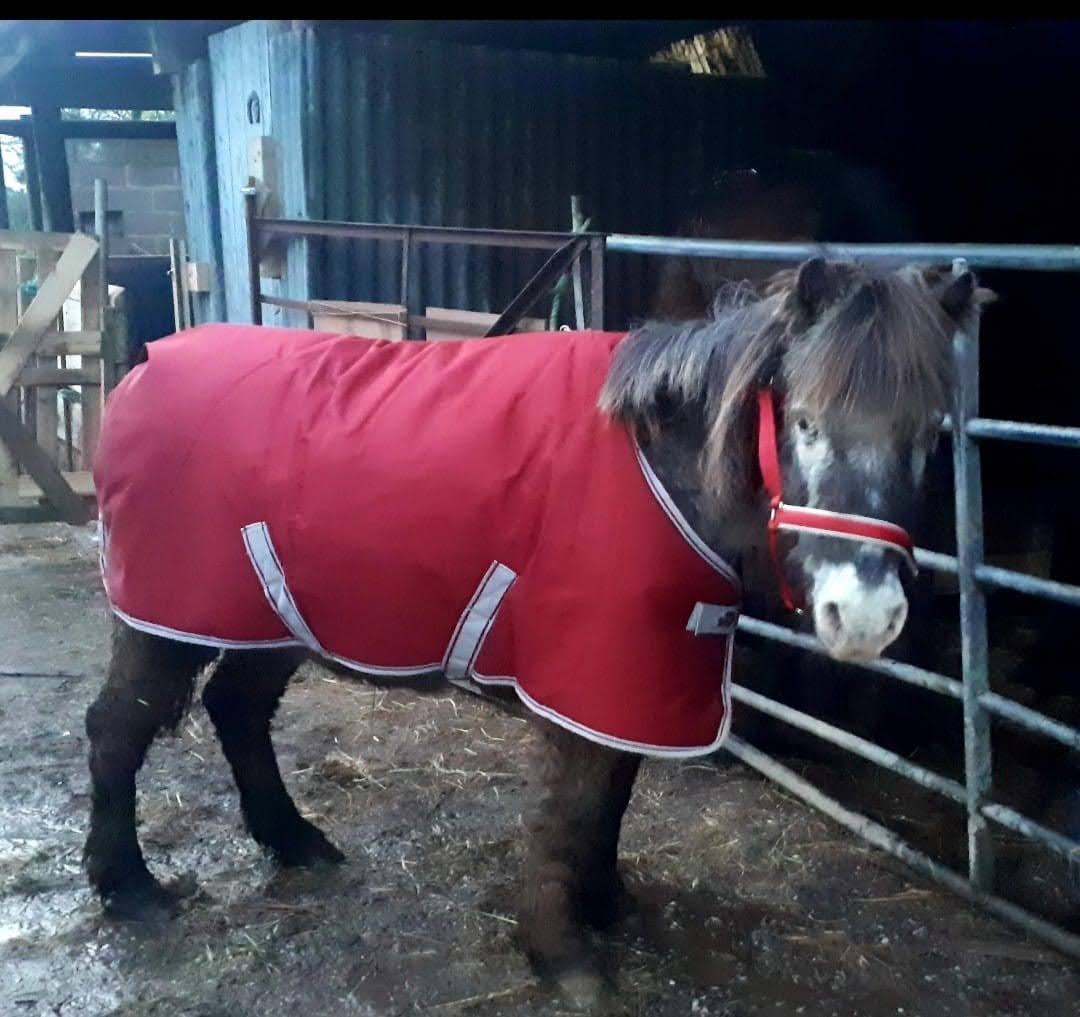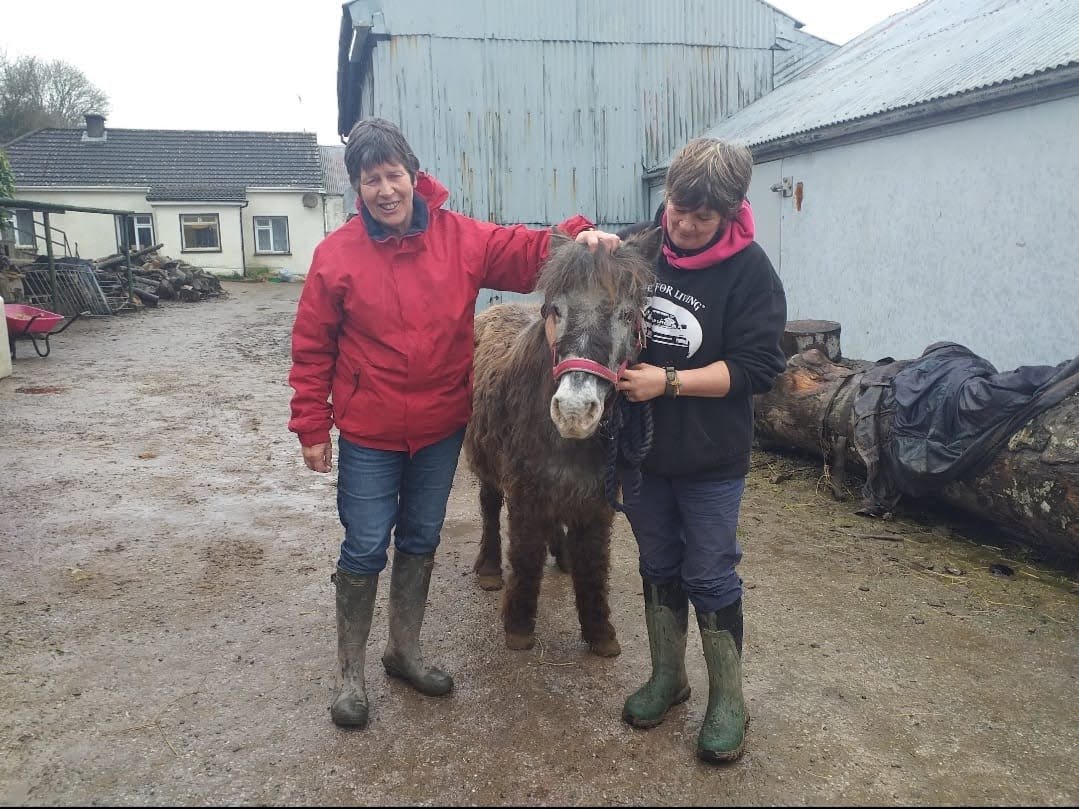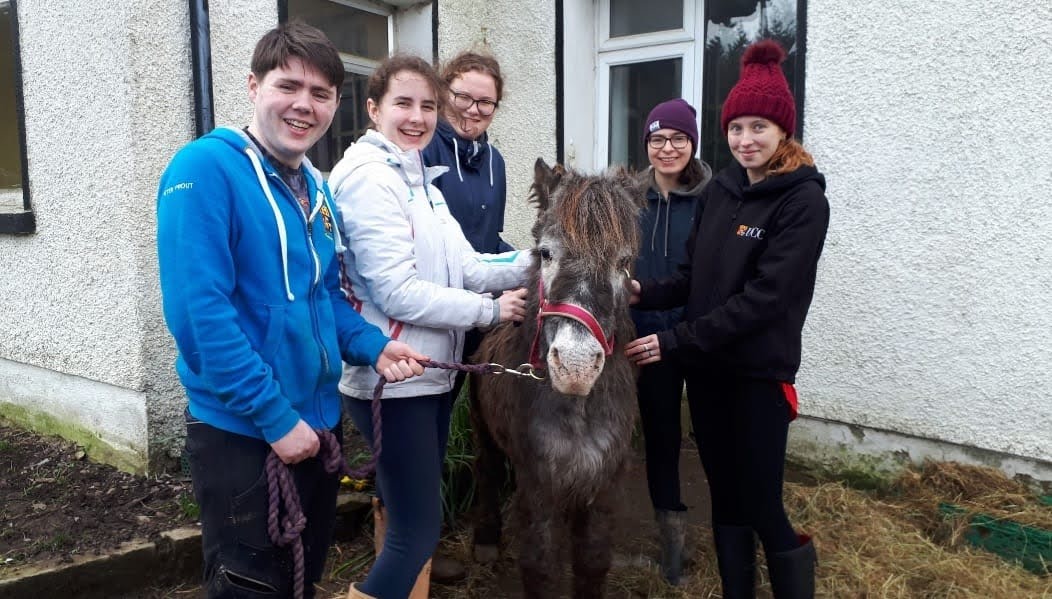 So Kelly and Jeannette, who run MLHR Cork, really wanted to find Faye a fosterer or adopter who could help her recover as much as possible and manage her condition for whatever time she had left. Looking for someone to take on elderly horses is always difficult. When the elderly horse is in bad health, it usually makes it literally impossible to find anyone. 
So when we say that Elizabeth and Margaret are no ordinary ladies, we truly mean it. They are two of the kindest and most wonderful adopters we've ever met. They had already adopted Granny Cliodhna from us, an old horse who in the end only lasted a few weeks with them but who, through their love and compassion, was given a dignified and caring end of life. Elizabeth and Margaret had not flinched when they originally heard all of Granny Cliodhna's issues. As they said when taking her and when they came back to take Faye 'we'll be their dying days'. They think just like we do at MLHR, that horses just like the rest of us deserve happy endings, especially when they have had miserable lives and ended up waiting to die in the harsh surroundings of the horse pound.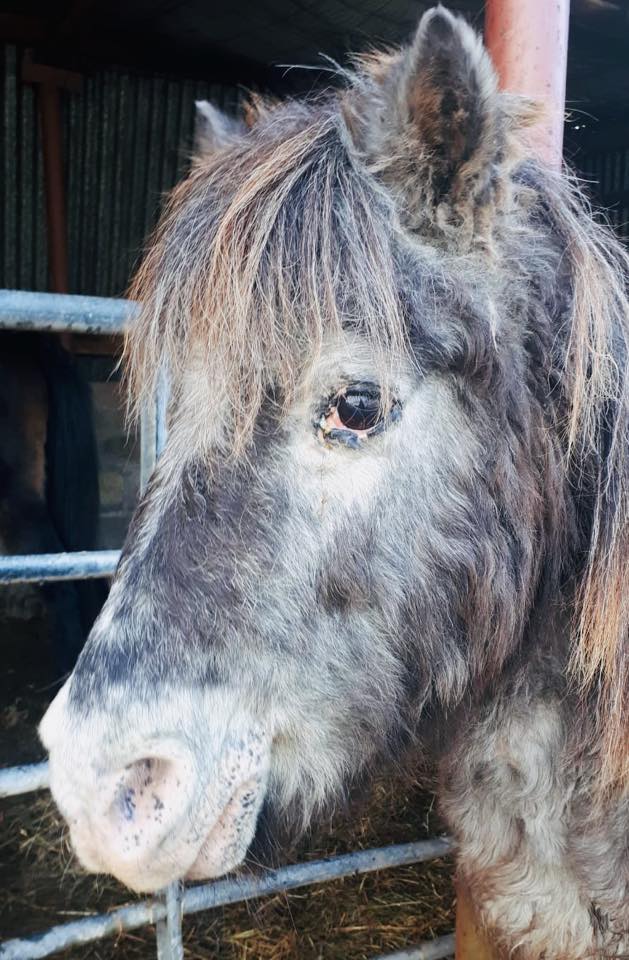 So Faye went to live in one of the loveliest places we know and she just thrived. The set up there suited her perfectly. The paddocks are small and lead straight down to the dry standing areas for the evening time making it easier for her to get from one to the other. The stables have special grip mats to help her get up easier and it's such a quiet, peaceful home for any older horse. Here in this beautiful home that Elizabeth and Margaret gave to her, Faye lived for over two and a half years which considering her condition when she arrived to us is extraordinary. Eventually her great strength began to fail her and she would take much longer to get herself up each time she fell. When the vet was eventually called it was decided that it was time to let her go. Faye left this world surrounded by that kind of love that most people search for all their lives, unquestioning, unflinching, unstoppable. She has left a huge hole in everyone's hearts and we want to pay tribute to Faye's ferocious zest for life which has inspired us all.
We want to also say a huge thank you from the bottom of our hearts to Elizabeth and Margaret for their unbelievable generosity of spirit and their ability to love and look after our precious golden oldies. 

So many animals come through our doors that we don't always get to feature all of them. For this month our farm manager Ciara has put together some video footage to show you around our yard and see who is hanging out there at present. On a freezing, cold day, it's heartwarming to see all these lives who've been saved.
So firstly we have the back stables, so called because they are behind the front stables! They have their own small, dry standing area and we use them for our pregnant mares as the stables are bigger and also for any injured horses as the little yard outside them is small and contained. In the first stable is Isola, in the second we have two mares and their beautiful babies, Nessa and Aifric, Danielle and Andrea. Then we have Hollyanne and finally our Lizzy Bennett.
As Ciara then heads to the main yard we have Frances the goat who is super friendly and well known to love a selfie. You can see how miserable a day it is but with full bellies and all the proper medication and care, these animals are the lucky ones and we hate to think of the many out there right now, suffering and unknown to us. 
The next two goats featured are sisters Pippa and Zoe, two from a group of nine rescued from a building site. 
The two little ponies are Oreo and Elvis surrendered to MLHR and now being very well behaved for their video footage – as opposed to usual when they are off with best friends Daisy and Dots creating as much havoc as their little selves can manage.
Then we have our new arrivals, Nicolas and Noel whose story is featured above in our Arrivals section. The alleyway which is crowded with goats and ponies is a favourite hangout for everyone. It's sheltered of course and the guys come in to get out of the rain and have a chin wag with each other. Of course the fact that the feed room is nearby at the other end of it could have something to do with its popularity too.
Then we have Sid who you may remember came to us very young with a shocking injury to his chest caused possibly by a pole or barbed wire. All recovered now and growing up happy and feisty he is bedded down with Billy the goat – who actually 'owns' this stable. Billy is an old goat who's not really a 'goat' goat….instead he just loves chilling with horses and people. He'll come up when it's feed time and then will wait for you to point at the stable and then he'll trot in to have his dinner. Everyone just loves him.
Then you'll probably recognise some of our recent pound babies in the alleyway, fresh out of quarantine and getting used to the madness of the yard and being around all the other horses, goats, dogs and all the open space. They are doing well and so many of our young ones who make it go on to have amazing lives with our wonderful adopters.  
Then meet Indie, who wandered into a garden in Wicklow, skinny, full of sores, lice, worms and with patches of her hair missing. She's still anaemic and on a special tonic to help but doing so much better. 
Rosie was found on a canal, wandering, looking very lost and trying to follow passerbys home. She is just lovely and is receiving iodine poultices on her feet at the moment to help make them healthier and more resilient and harden them up.
Then we have beautiful Amanda who lost her foal only a short while ago. Amanda is 18 and is getting over her great loss. We left her foal with her initially so she could grieve fully. It's always better, just as with humans, to let the grieving process take place, so that just like in the wild they can stand over the body of their loved one and only leave when they know themselves it's time to. Amanda spent some time recently in UCD veterinary hospital as the fatty acids in her liver were very high which can mean liver failure. Her bloods are now improving and her tests seem okay so we are thrilled for her to be getting better as it's been such a hard time for her.
Little Dawson too has been unwell but is on the mend and his bloods are showing an improvement. 
Then meet the dude with the hair! Sylvester Stallone, a very fitting name for this star of the equine world who was found abandoned. How could anyone look at this fabulous little fellow and not want to care for him always? Well we think he's just amazing and he's recovering well from a bacterial infection and will soon be right as rain.
Finally our fab Ed Sheeran, from Limerick originally, found locked in a barn with eight other goats during an official seizure. Ed also is not much of a 'goat' goat. He tolerates Billy the goat well enough – two kindred spirits in their refusal to be totally goat like – but spends a lot of his day around the top of the yard trying to get into the feed room. The door is now always locked because he is more than capable of opening it and sometimes when you're inside getting feeds ready you can see his shadow lurking outside ready to pounce. When Ciara is on the yard, perhaps on the phone to a vet or an adopter and so standing still for a moment, he'll start searching her pockets and pull the zip down to find any treats she may have. Everyone just adores him so much and sure what's a few broken door handles or zips when you get to hang out with Ed Sheeran everyday.

New Year Resolutions at MLHR farm!
January has begun, and that means it's time to put our New Year resolutions into action! We all do it every year, we make our resolutions with every belief that we'll keep them for the whole year. Well, we went around and asked all of our animals what their New Years resolutions are. Here are a few that they told us, and let's see if they'll be able to keep them! 🐐🐖🐎🐕🐈
First up we have Curtis and Terry with a New Year resolution I think a lot of us will share – get more work done! These boys want to help out more on the yard and have almost mastered using the sweeping brush – almost…
Secondly, Cole the dog is picking a very classic resolution – study more 📚 Cole has been inspired by the amazing vets and vet students he has seen on the farm and wants to follow in their footsteps. Here we can see him learning on the job!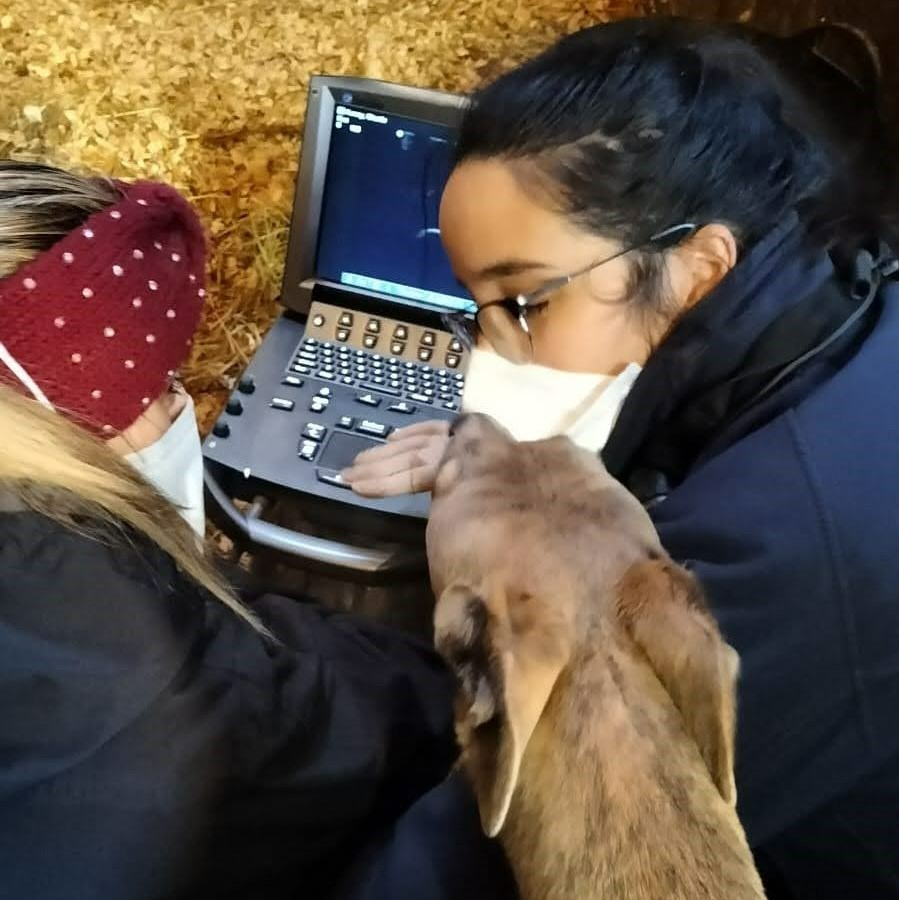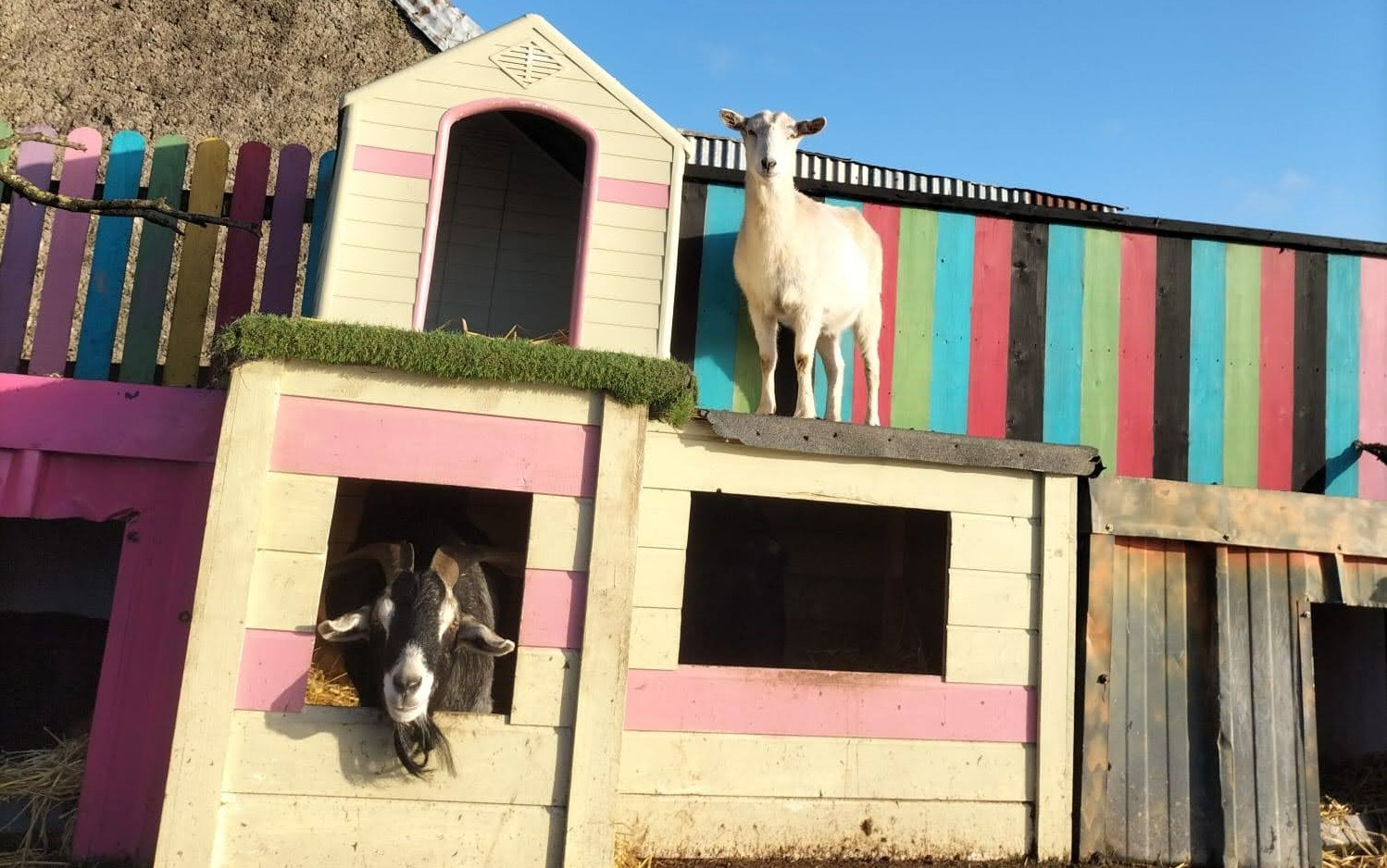 Another change of career with Sheamus and Lorne who want to finally have their dream of being house auctioneers come true. They've been practising loads on the farm so keep an eye out for these entrepreneurs!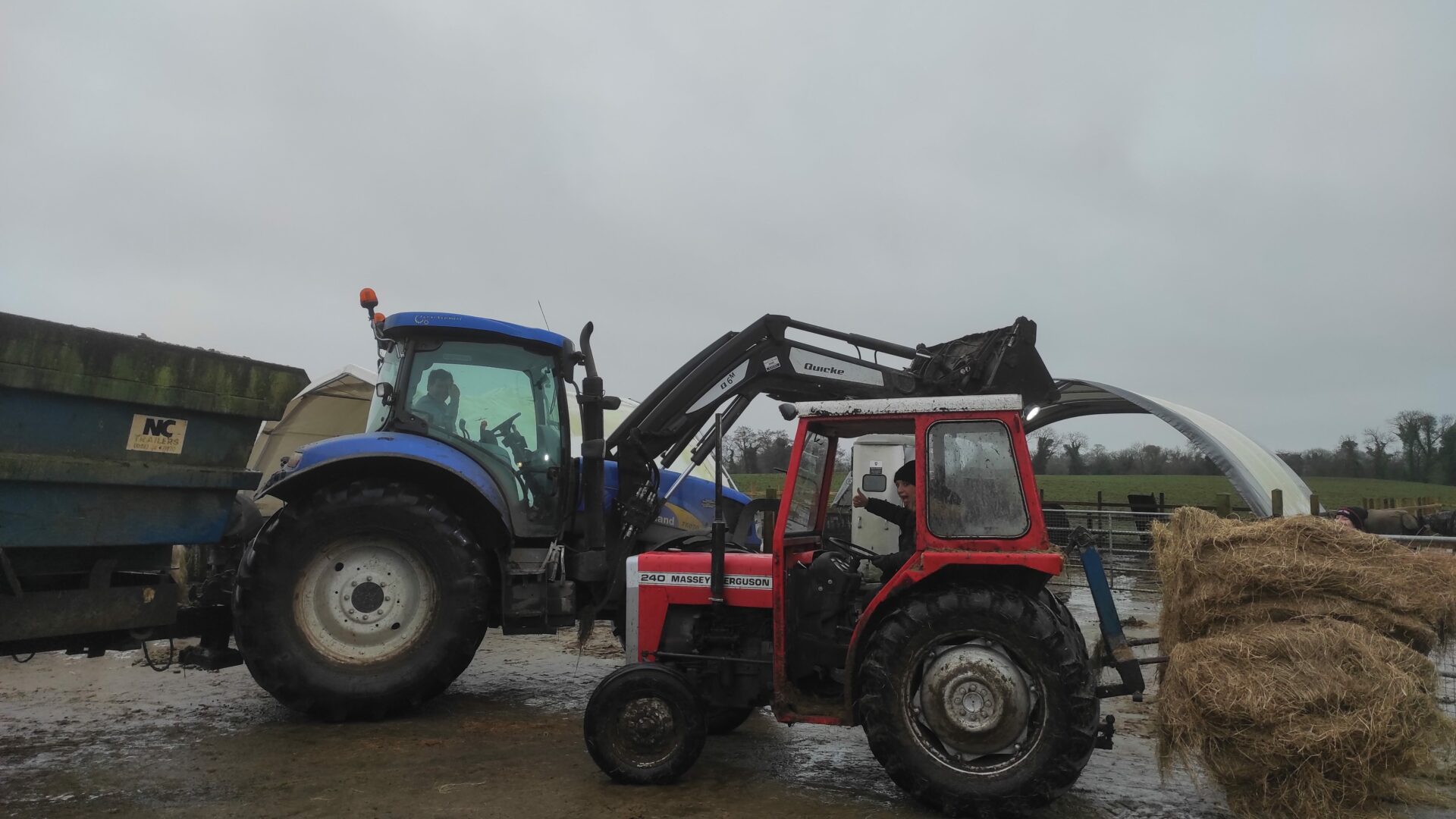 Peter the tractor has his own resolution. He's been a long time fan of John's tractor who comes to collect our muck heap. He's too shy to talk to him or ask his name but in 2022 Peter wants to grow big and strong just like his favourite tractor! 🚜
In fact lots of animals also wanted to make big changes in 2022. We spoke with both Tony the horse and Susannah the mule who have been watching how easily the goats at MLHR are able to jump up on top of bales in the hay barn to eat from the higher up ones. So both have decided that their New Year resolution is to become a goat! They've both been practising hard!
Speaking of goats, many times in 2021 the goats found themselves caught out in the rain and, as you can see in the video, have had to run back to the cover of the hay barn and the stables. So in 2022 their resolution is to never get caught out in the rain again. Each day before they go out they will make sure to check the weather forecast and have talked to us about perhaps investing in little goat rain jackets to keep them extra dry. We're not sure about the jackets but have promised to let them know the weather forecast each morning.
Ed the goat has made his own separate resolution. Ed much prefers to stay up in the yard than go out into the fields with the rest of the goats and his favourite place to hang is the hay bath! He demands only the freshest hay to bathe in and his resolution is to have at least one hay bath every day. According to him it's the comfiest place to go for a nap and to help his resolution he has put in a request that the bath be constantly kept full of fresh hay and the horses that try to eat the hay as he's in there must stay away and find somewhere else for their lunch!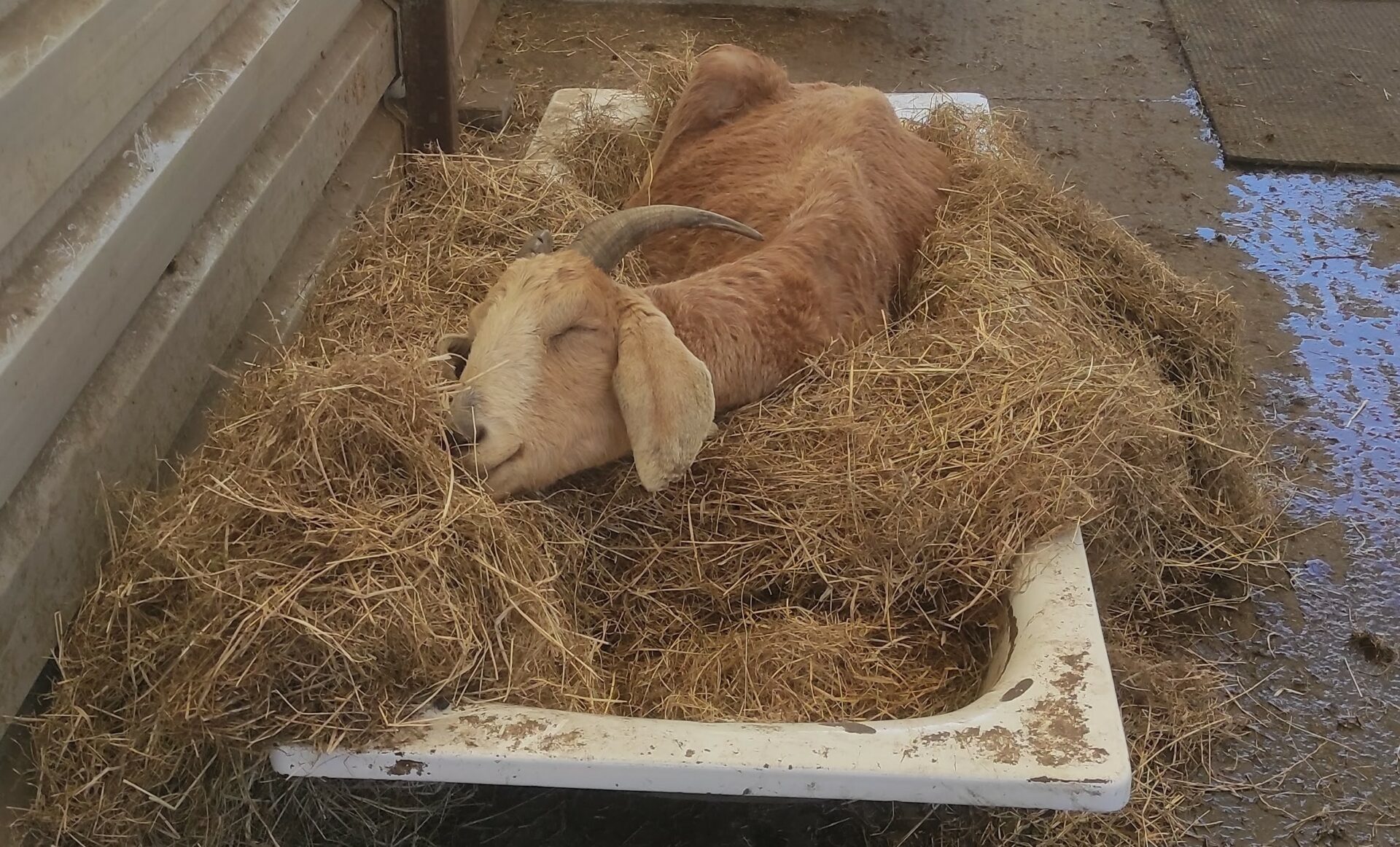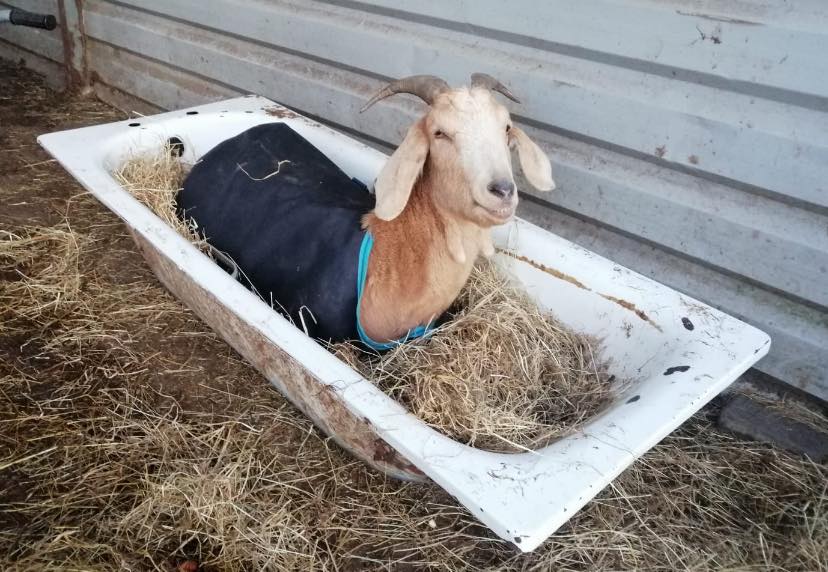 And Ed isn't the only one with a resolution to bathe daily. Our curly pigs, like all pigs, have always enjoyed a good mud bath and they especially love how the mud gets stuck in their hair – it's like a portable mud bath! Their new year resolution is to be covered in mud the whole year long! They've asked that we always have a place for them to wallow in mud, especially when it gets hot in Summer.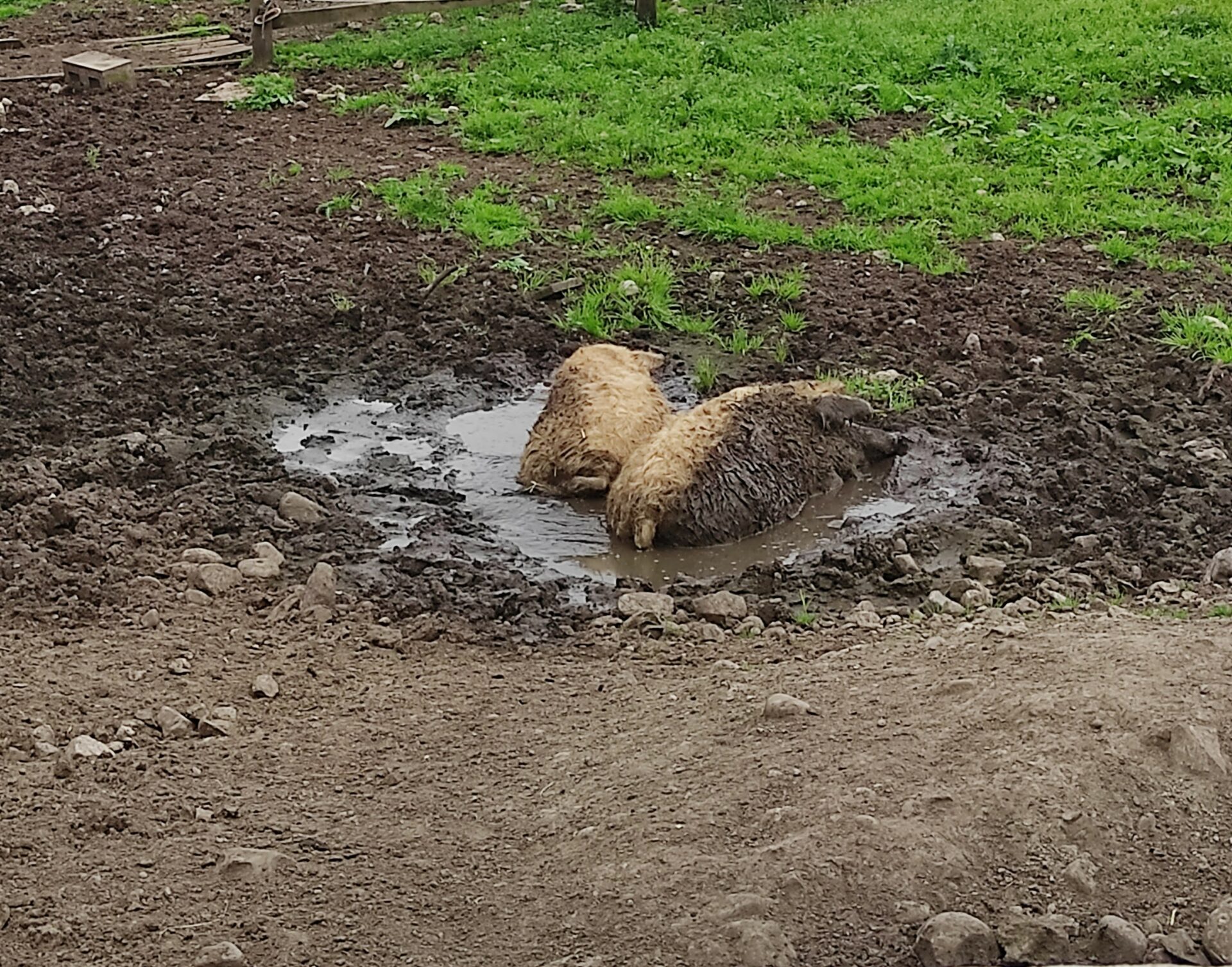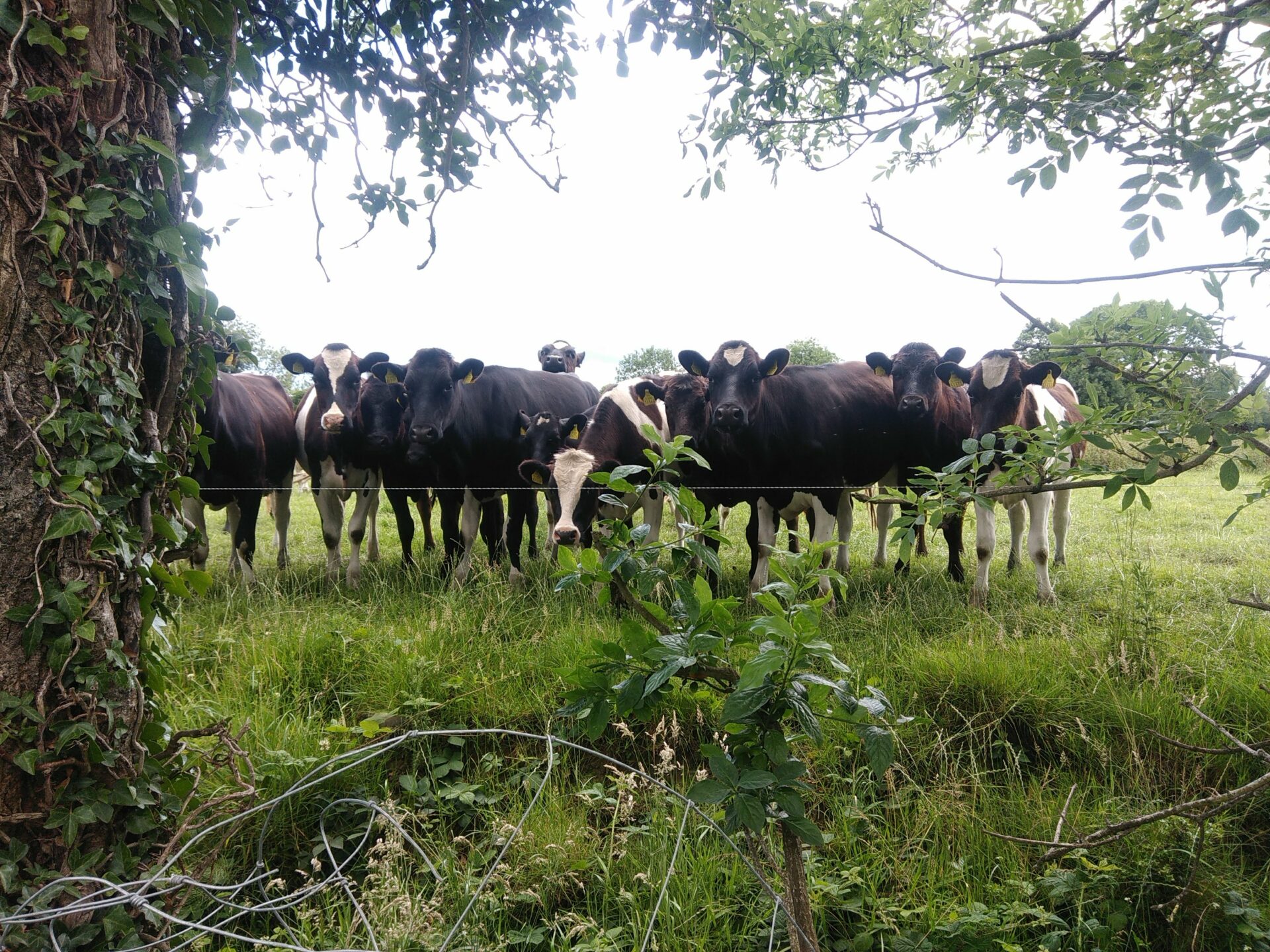 Finally we got to talk to our neighbours – these cows live in the field that backs onto our rescue and they can always hear all the neighing, bleating, barking and braying coming from our yard and their resolution is just to figure out what's going on in this crazy rescue centre!
So there you have it! Now we'll have to wait and see can they all achieve these goals!
It makes us so happy to see our animals having fun and exploring and making friends. So for the humans at MLHR our resolution is to keep saving as many animals as we can and give them a life worth living. To help us achieve this resolution donate today to MLHR and help us to help them 🧡💙

Cellulitis and Lymphangitis – Charlie's Story 
This month we are looking at Cellulitis and Lymphangitis, currently affecting our beautiful Stoney Grey Thoroughbred boy Charlie. You may remember Charlie from the Arrivals Lounge in our November issue. He and his Mum Lilly are ex-Racehorses who came to live at the main MLHR farm when their owner sadly passed away. With nobody in a position to take over their care, they were surrendered to MLHR and immediately settled in with the herd. 
As with all new arrivals, Charlie and Lilly were assessed by our vets and it was discovered that Charlie had an abscess on one of his front foot and swelling in his left hind leg consistent with cellulitis. Cellulitis is a bacterial skin infection that can develop from something as simple as a scratch or a scrape. It affects the soft connective tissues under the skin and in equines it is quite often found in hind legs.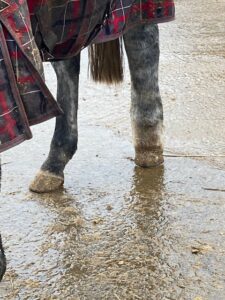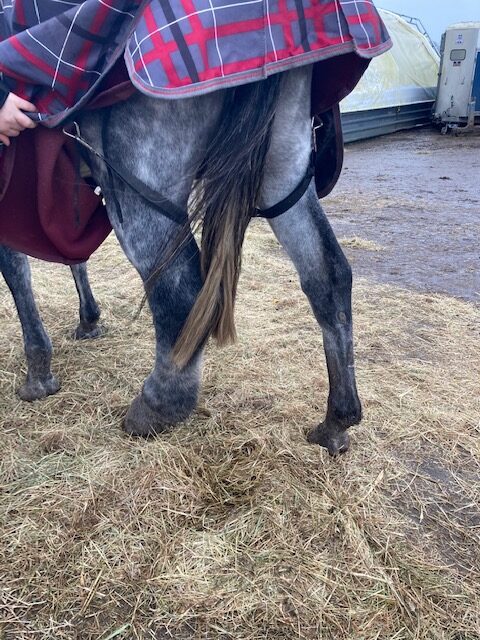 Severe swelling can cause the skin to crack and fluid to weep out. Initially, fluid began to weep from the front of Charlie's leg but it worsened and began to weep from around the coronary band, at the back of his fetlock and the back of his hock on the inside. It is imperative to get the weeping of fluid under control and once this stops, and this can take a few weeks, we know we are starting to make progress.  
Charlie's Cellulitis has unfortunately progressed to Lymphangitis – which is the swelling and inflammation of the lymph nodes. There is a considerable build-up of scar tissue and damage to his lymph nodes and this affects the drainage of fluid from his leg. Our vets at UCD scanned Charlie's leg and could see a large solid body of fluid but unfortunately no isolated pockets of fluid that could be lanced and drained. For Charlie it is a case of monitoring and managing his symptoms on a daily basis. 
What we do to help Charlie
Charlie gets his medication first thing in the morning. It has been a case of trying different combinations of medicines to determine what will work best for him, particularly as the bacteria present in the infection can be resistant to certain antibiotics. At one point in his treatment, when Charlie was begining to improve, he was taken off one medicine but within a week the swelling in his leg had increased and began to ooze fluid again. 
For now, we know the current medication programme, in conjunction with his physical therapy, is working for him. He is currently on doxycycline, an antibiotic and anti-inflammatory, and he also gets prednisolone, a steroid, which is dissolved in water and given orally by syringe. As the inflammation has reduced so too has his pain and he is now well on the road to recovery!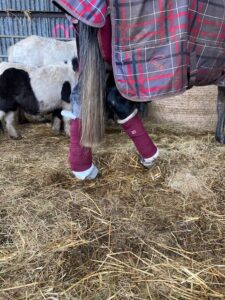 For all that he has been through, Charlie is very easy to treat – he really is the definition of a gentle giant!  Now that he is able to bear weight on his hind leg, he is walked to the top yard daily where his leg is cold-hosed for 10-15 minutes. Walking can help to improve the circulation and the cold-hosing helps to bring down inflammation much like an ice pack would. 
Once dry, a compression bandage is applied to his left hind leg to encourage the redirection of fluid. His leg is first wrapped with absorbant padding and a bandage is then applied. A support bandage is also applied to his right hind leg in case Charlie is over-compensating on the right side for the difficulties with his left. Charlie will have to have his legs bandaged on an ongoing basis.   
While the terrain of a nice soft flat field might be beneficial for him, we know that when he is out in the field, Charlie can become stressed easily and he has a tendency to go off his food. For now Charlie prefers to spends most of his time on the yard with his Mum Lilly or in the barn with his friends, a lovely group of ponies and goats who prefer to take life at a much quieter and calmer pace. Charlie is now 11 and he has a long and happy retirement ahead of him and all the tender loving care he deserves.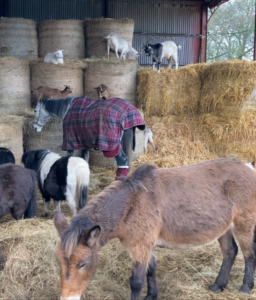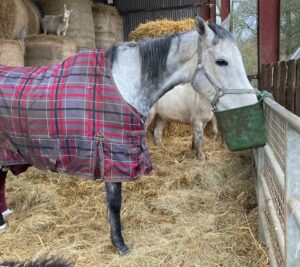 Microchips and Passports
We know that Microchipping and keeping up-to-date contact information on a recognised registration database are key to reuniting humans with their canine and feline companions should they stray, or become lost or stolen. Did you know that since July 2009, all equines (horses, ponies, donkeys) must have a valid passport which holds unique identification details about them, including their microchip number? 
In Ireland, a keeper of an equine must apply for a passport no later than 6 months from the animal's birth to ensure the process is finalised before the animal is 12 months old. Once a passport is issued, it is valid for the lifetime of the equine. If an equine is moved, they must be accompanied by their passport. Microchipping and passport requirements also help to identify who is responsible for the welfare of an animal should they be found to have suffered neglect and cruelty. In reality, so few of the animals that come into our care have either microchips or passports. 
What's involved?
In order to apply for a passport, a veterinary surgeon must complete an official marksheet and implant a microchip. The details of the chip are recorded on the marksheet along with any significant markings or hair patterns on the animal's face or body which can act as unique identifiers of the animal. The marksheet is then submitted to one of seven organisations in Ireland approved by the Department of Agriculture, Fisheries and the Marine, to issue equine passports.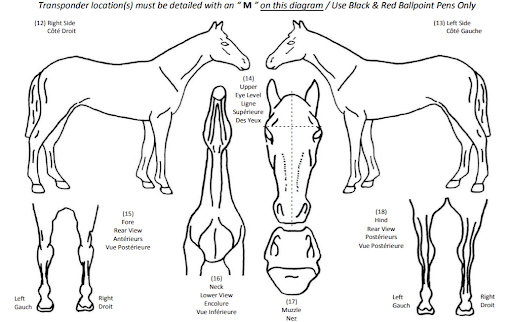 At MLHR we ensure that each animal is medically assessed on entry and scanned for a microchip. Where no chip is found, our vets microchip the animal and a passport is applied for. MLHR uses new and innovative chips designed by Equitrace which allow us to access and upload their medical history, take their temperature and track them when they are en route to their new homes, all simply and efficiently by means of a medical scanner. €5,000 would enable MLHR to microchip and obtain passports for 48 equines in our care.
So many unchipped and unregistered equines are dumped on public and private land all over Ireland every year, left to starve and die. We will continue to be the voice for animals and speak out about the requirements around Microchips and Passports because, as long as equine identification and horse licensing laws are not adhered to and are not strictly and consistently enforced, the abuse of equines will continue without any consequences for the abusers.   

My Lovely Charity Shop and the Tack Shack
My Lovely Charity Shop started life in 2013 and, after many happy years in Rathfarnham Village in Dublin, moved to Enfield, Meath in 2019. After a successful year on Enfield's Main Street, the decision was taken to move to Edenderry in Offaly, to a larger premises with the space to house both My Lovely Charity Shop and My Lovely Tack Shack. 
We were delighted to open our doors in March 2020 but disaster struck three months later when a fire broke out at the shop gutting the interiors on the lower and middle floors. My Lovely Tack Shack, located on the upper floor of the building, suffered smoke damage but thankfully we managed to salvage much of the stock. As the saying goes, "the comeback is always stronger than the setback" and so we mustered our MLHR can-do spirit and started again.
We will be forever grateful to the community in Edenderry and far beyond for their kindness and generosity, for coming to OUR rescue by helping to clear out, clean, re-wire, re-paint and re-fit the shop.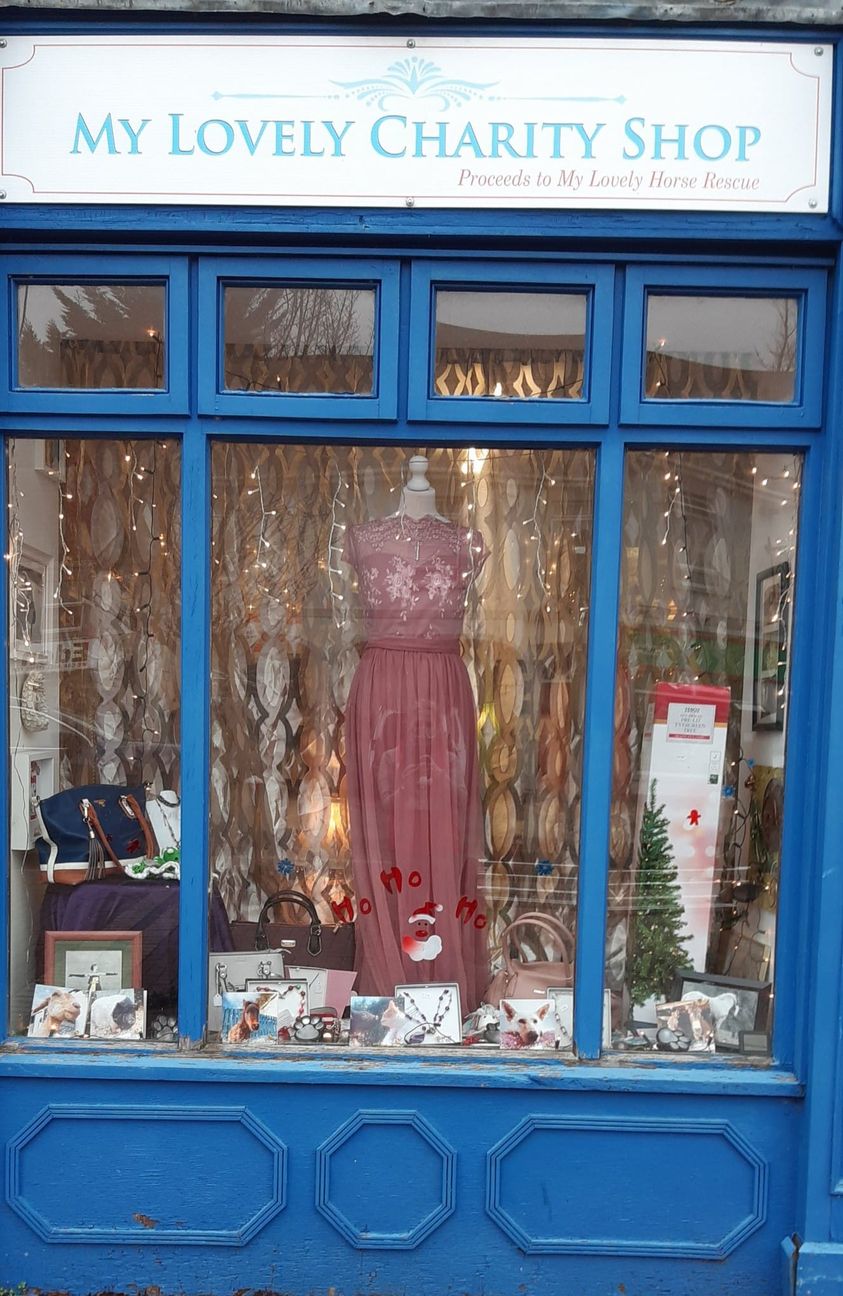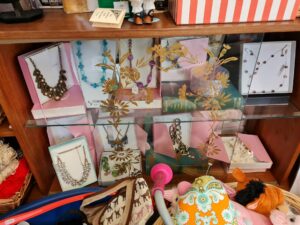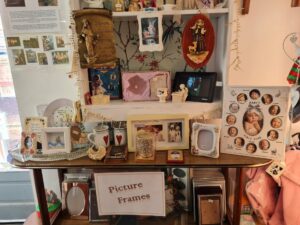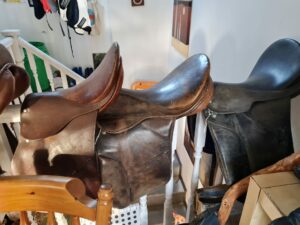 We were amazed by the national response to our request for donations to re-stock the shops. Our volunteers co-ordinated nationwide collections of clothes and household items and we gratefully received donations of new and pre-owned tack, saddles, rugs, masks, boots, hats and horsey foodstuffs. We re-opened in July 2020 and My Lovely Charity Shop and the Tack Shack have gone from strength to strength ever since and with all proceeds going to My Lovely Horse Rescue. 
On entry to the shop you are met with a vibrant and colourful display and a very warm welcome from our wonderful Volunteers. The lower and middle floors carry an eclectic selection of vintage clothes and footwear, exquisite pieces of jewellery, art, ornaments and homewares and we are often gifted original pieces of art and crafts for sale or auction. 
On the upper floor, the Tack Shack stocks everything you could possibly want for the horse or horse-lover in your life! We have a fantastic selection of tack, saddles, riding hats, rugs, jackets and jods, boots for humans and horses – bargains just waiting to fall into your hands! 
Stayed tuned throughout the year as we check in with our Edenderry crew for their bargains of the month. In the meantime, please follow My Lovely Charity Shop and My Lovely Tack Shack on Facebook or, if you fancy a leisurely browse, drop in to 81 JKL Street, Edenderry, Co. Offaly. Opening hours are Tuesday to Friday 10.30 a.m. – 4.30 p.m and Saturday from 10 a.m. to 3.00 p.m. We hope to see you there!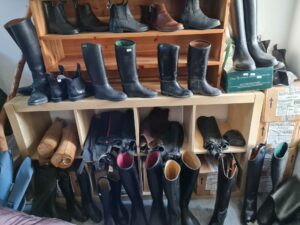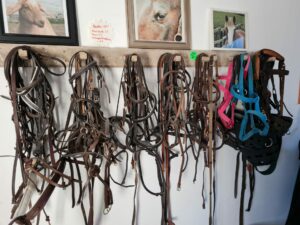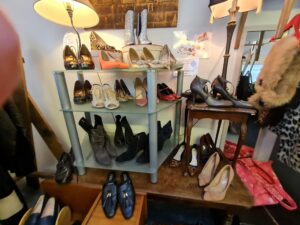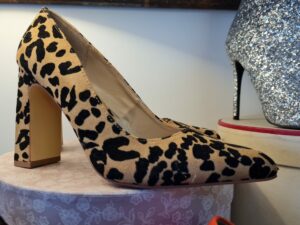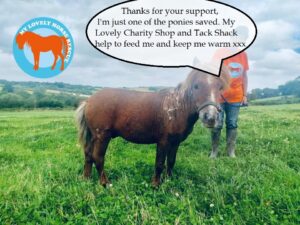 As part of our mission here in My Lovely Horse Rescue we are trying to promote greater awareness of all animals' needs, not just horses but especially the farm animals of the world who have such short and miserable lives before they go on their final journey to slaughter.
Many of us in MLHR have begun our vegetarian and vegan journeys over the last few years, inspired by the animals we've met on our farm bases. Something we've all learned is that every little counts and every time you opt for an animal-product free meal you are making a difference – even if you can't do it everyday. We want to inspire as many people as possible to go on this journey with us, so every month we're including a different vegan recipe for you to try out and enjoy.
This month we have Peanut Butter Brownies!
Ingredients:
120g

plant based butter

210g

peanut butter

180g

caster sugar

75g

soft brown sugar

3

vegan eggs

1

tbsp vanilla extract

255g

flour
2 tsp

baking powder

2 tsp

cinnamon

¼ tsp

salt

12

peanut butter oreos

peanut butter and icing sugar for decoration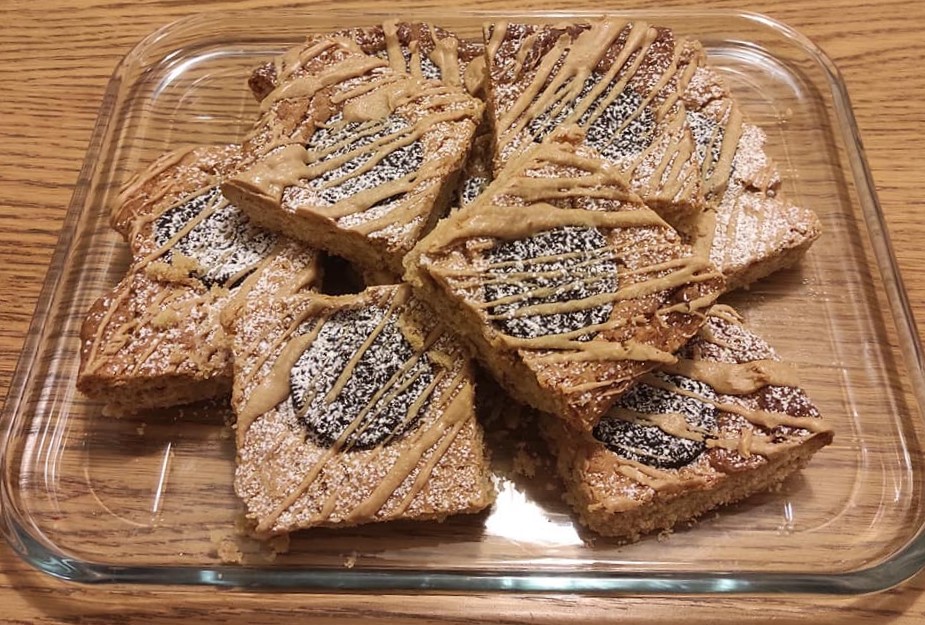 Method:
 In a bowl, cream together the plant based butter and peanut butter.

Add in the white sugar, brown sugar, vegan eggs (I used Orgran No Egg Egg Replacer) and vanilla extract and beat.

Mix in the flour, baking powder, cinnamon and salt until fully combined.
Place the dough into a large baking dish and smooth out. I used a 9×12 inch dish.
Place the peanut butter oreos on top if the dough.

Bake for 30 minutes at 70

°C.
Once the brownies are out of the oven melt a small amount of peanut butter in the microwave at intervals until it becomes runny.

Drizzle the melted peanut butter over the brownies and dust with icing sugar.

Cut into slices and enjoy!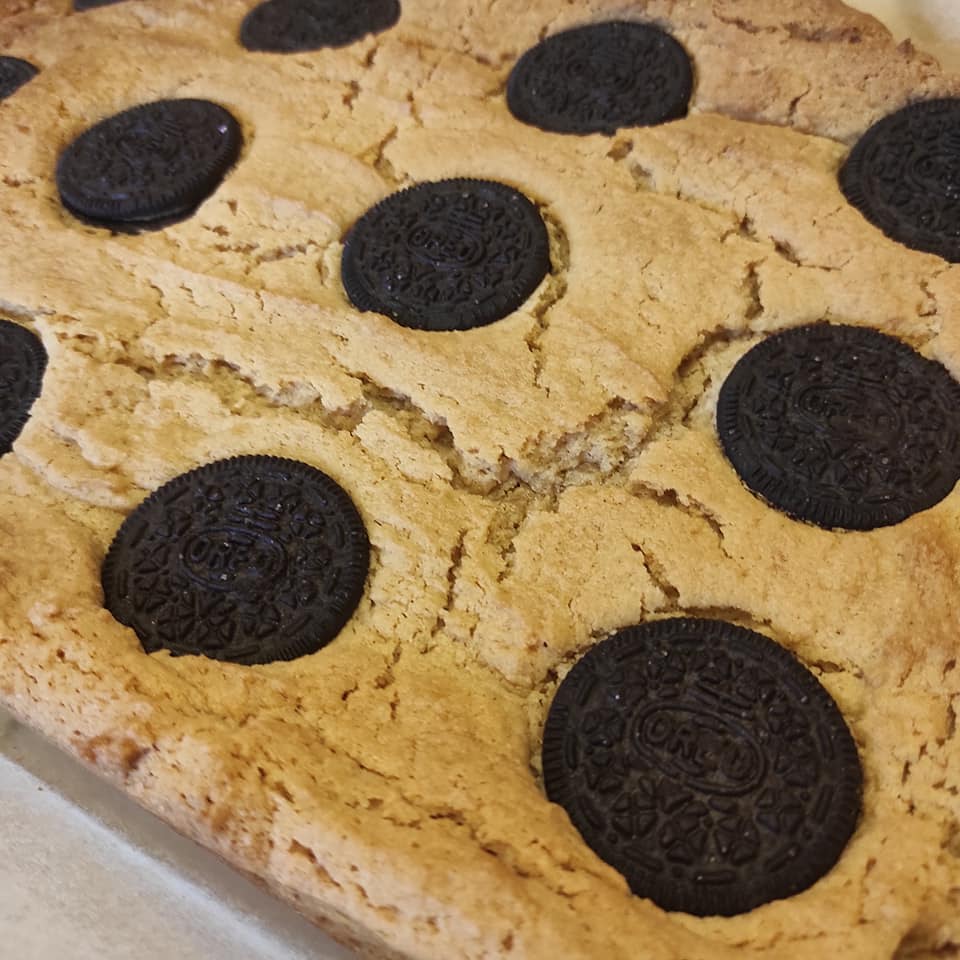 We are now in the depths of winter and that chill has taken hold of us all. Animals all over Ireland are facing unthinkable hardship, neglect and starvation. We have taken in so many horses and donkeys in the last few months who have been abandoned in freezing conditions, with no access to food, water, shelter or medical care. We are here for animals 365 days a year but we need your support more than ever to give these animals a life worth living.
We are aiming to raise €150,000 with our Winter Appeal to see us through this particularly difficult period. Our running costs last year nearly reached a staggering €400,000 with basic necessities of hay, feed, medical and farrier care accounting for over half of that figure. With over 500 animals already in our care across our three farms, this number is rapidly increasing as we take in sick and injured animals in desperate need of our help. 
Your love of animals and your support means the world to us. Please help us provide a home, food and medical assistance to the animals in our care by donating what you can to our Winter Appeal.  

Our farmies work from morning until night to keep the farms running and all the animals cared for. Between cleaning, medical treatments and call outs, they capture so many moments on camera, from the interesting, to the funny and  beautiful. Here are some 'behind the scenes' videos and photos from the farm this month.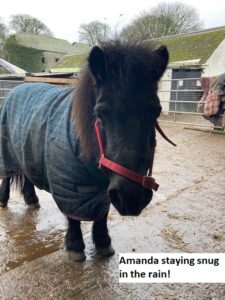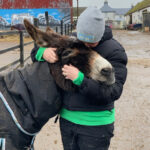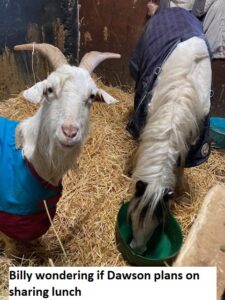 It's terrifying to witness an act of cruelty against a defenceless animal or to see an animal running loose in the street perilously close to oncoming traffic. In the heat of the moment, it can be hard to know what to do, who to contact, and to know what information will be important to share. MLHR is on hand 24/7 all year round to be the voice for animals. Every day we receive reports from all over Ireland of animals (of all species) who are straying, who have been abandoned, or who have been the victims of intentional neglect and abuse.
Under the Animal Health and Welfare Act 2013, only Authorised Officers (An Garda Síochána; Department of Agriculture, Food and the Marine Inspectors; and County Councils/Local Authority Inspectors) are permitted to seize animals, to enter private property, to carry out investigations or to bring prosecutions. MLHR assists Authorised Officers with their work and for this reason, it is vital that members of the public reporting incidents to MLHR also report to the relevant Authorised Officers so that we can liaise with and help them move animals out of harm's way and into safety.  
What you can do
1. Provide us with a description of the animal(s) at risk and the nature of the incident.
2. Send us a pin drop or accurate description of the location. 
3. Take Photographs/Video footage but only if it is safe to do so  
4. Tell us which Authorised Officer or Garda station you have contacted.
How to make contact with Authorised Officers
• An Garda Síochána – A list of Garda stations is available online at https://www.garda.ie/en/contact-us/station-directory/
• Local Authorities (for incidents on Public land) https://www.gov.ie/en/help/departments/#local-authorities  
• ISPCA for emergencies call 1890 515515 (Monday to Friday 9 a.m. – 5 p.m.). Welfare concerns can http://www.ispca.ie/cruelty_complaint 
• Department of Agriculture, Food and the Marine – for incidents on private land phone 01 607 2379 or 0761 064 408 or email [email protected]

Missed out on any of our old newsletters? No worries! Click the button to browse through all of our newsletters!